Polymeric Chromatography Media UniPS 10-1000
| | |
| --- | --- |
| Payment Type: | L/C,T/T,D/P |
| Terms of Trade: | FOB,CFR |

| | |
| --- | --- |
| Transportation: | Ocean,Air |
Product Description
Nanomicrotech`s monodisperse polymeric chromatography media have been successfullyapplied to the isolation and purification of plant extracts (taxol, docetaxel, huperzine, ascutellarin, stevioside, neomangiferin, myricetin, diosgenin, vinorelbine, ecdyson arbutin), antibiotics(vancomycin, derivatives of vancomycin, daptomycin, telavancin, caspofungin, Pneumocandin B0, teicoplanin, dalbavancin), polypeptides(thymalfasin, octreotide, oxytocin)and others(iohexol , iopamidol , acarbose).
These chromatography media are made from polystyrene (UniPS®), polymethyl methacrylate (UniPMM), copolymers of polystyrene and polymethyl methacrylate (UniPSN).The polymeric matrix, monodispersion and optimal porosity give rise to beneficial features of high resolution and loading capacity,strong rigidity, resistance against acid and base, low back pressure, long lifetime and low non-specific adsorption. Suzhou Nano-Micro Technology Company, Ltd. (Nanomicrotech) offers a new generation of monodisperse spherical polymeric chromatography media, produced using a patented technology that is developed in-house.
| | |
| --- | --- |
| Features | Benefits |
| High uniformity of particle size and perfect spherical shape | Easy column packing, low back pressure, high efficiency and resolution |
| Optimal pore structure | High loading capacity and selectivity |
| Superior chemical and pH stability | Wider choice and cheaper CIP procedures , broad application pH range and long lifetime |
| High mechanical strength | Low back pressure and stable column bed |
| Large-scale manufacturing capability | Consistent product quality and supply |
| Full line of products | Wide options satisfying different needs |
High uniformity of particle size
Our monodisperse polymeric media have perfect spherical shape, highly uniform particle size distribution, and precise particle size (Figures 1 and 2). Compared to other commercial chromatography media (with a broad particle size distribution in Figure 2), our media have demonstrated great advantages of strong rigidity, easy column packing, low back pressure, high column efficiency, good resolution, stable column bed and lower risk of frit-plugging.
Figure 1. SEM micrographs of UniPS® monodisperse spherical chromatography media

Figure 2. Particle size distribution of UniPS®(red)compared with well-known international brands(green)
Optimized pore structure
Pore size and specific surface area have a strong influence on the separation performance of chromatography media. The choice of a chromatography media with correct pore structure would improve the loading capacity, the column efficiency and the final purity of target molecule. We offer media with pore sizes typically from 50 Å up to 1000 Å.

Figure 3. SEM micrographs of UniPS® with different pore sizes
Superior chemical and pH stability
UniPS® chromatography media, made from highly cross-linked polymers of styrene and divinylbenzen, have excellent pH stability over a wide range of pH 1-14. These chromatography media maintain their outstanding physical and chemical stability even in extremely acidic or alkaline solutions (for e.g. 1 M NaOH/HCL) and organic solvents (such as methanol, ethanol, acetone, n-propanol, isopropanol, DMSO, THF, acetonitrile, 6 M guanidine hydrochloride, etc.). UniPS® provides the customers a wider choice of conditions for process development and optimization. The outstanding chemical stability, have been proven to meet the requirements of Cleaning-in-Place (CIP) in cGMP operations. For example, the loading capacity and separation efficiency remain unchanged, after a UniPS® 10-300 column was soaked in 1 M NaOH at 60°C for 40 days (Figure 4, used for Insulin purification).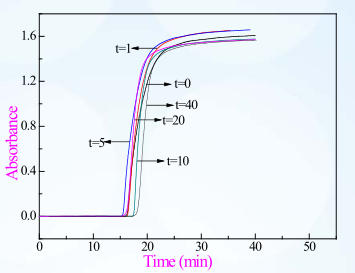 Figure 4. Insulin loading capacity (breakthrough curve), when a UniPS® 10-300 column was soaked in 1 M NaOH (at 60°C) for up to 40 days
Large-scale Manufacturing Capability and Product Performance Consistency
Our state-of-the-art manufacturing facilities enable the bulk production of media, and a good quality control system assures the highest quality and batch-to-batch reproducibility. Figures 6, 7 and 8 showed the results of the performance test of more than twenty different lots of the chromatography media, indicating the good batch-to-batch reproducibility in our production.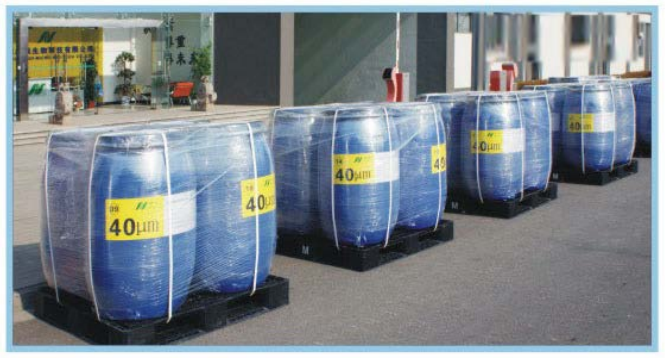 Figure 5. Nanomicrotech polymeric chromatography media in bulk packings

Figure 6. Consistent particle size and distribution in different lots of UniPS®

Figure 7. Stable pore volume and specific surface area in different lots of UniPS®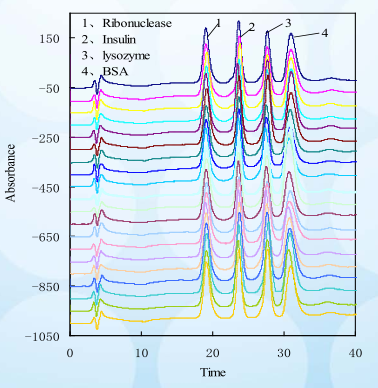 Figure 8. Reproducible isolation of four proteins by different lots of UniPS®
Different Polarity in Monodisperse Polymeric Chromatography Media
Nanomicrotech provides customers more choices of different materials and surface polarity, for process optimization, for example UniPS®, UniPSN and UniPMM, with increasing surface polarity in that order.
Applications
Nanomicrotech has an in-house application development group with vast experiences. This group support customers with a lot of technical services, from process development to technical transfer for production at industrial scale.
List of Products
List of typical particle and pore sizes of Nano-Micro Tech monodisperse spherical polymeric chromatography media*:
Products

Particle Size

Pore Size

Base Material

μm

Å

UniPS®

300

5,10,15,30,40

100,300,500,1000

PS/DVB

UniPS® RPC-NP

1.7,3,5,10

NP(non-porous)

PS/DVB

UniPSN

30,40,60

300

Poly DVB/acrylic

UniPMM

40

500

Poly acrylic

NM

50~150,150~300

300

PS/DVB
* Custom-made particle and pore sizes are available upon request.
Suzhou Nanomicro Technology Co., Ltd.
Established in Biobay, Suzhou in 2007, NanoMicro is the world leader in the manufacture of spherical, mono-disperse particles utilizing our proprietary manufacturing processes which enable high yield, cost effective production of such particles for a wide variety of industries and applications. NanoMicro`s products cover a broad spectrum of applications including high performance chromatography media, solid phase extraction (SPE) sorbents, Particle Size Standards,Magnetic Particles, LCD Spacers, ACF Conductive Particles, and various other micro particles.
Our chromatography products are available in a variety of polymer formats with particle sizes from analytical through to preparative scale. Our proprietary expertise in controlling particle morphology and surface chemistry can be precisely tailored to optimize for solutes ranging from the smallest API to large constructs such as viruses and viral vectors. A wide range of surface chemistries is available from RPC/chiral for small molecules to ion exchange/affinity for biomolecules.
We manufacture mono-disperse particles of wide range of sizes. With more than 10 product lines and over 5000 products, we serve a variety of rapidly growing industry segments.
NanoMicro has two ISO 9001-certified manufacturing sites, one in Suzhou Industrial Park and another in Changshu to ensure security of supply for our customers. Both facilities use the same well- defined processes with production capacity of more than 200,000 Liter of resins and 24,000 kg of silica products per year with batch sizes up to 1000 L or 200 kg. NanoMicro`s manufacturing and quality system are available for customer audits.
Additionally, our strong R&D and applications teams ensure sustainable innovation and can provide custom solutions such as custom resin development and purification process development.
Company Name: Suzhou Nanomicro Technology Co., Ltd.
Representative: Biwang Jack Jiang
Product/Service: Chromatography Media , Chromatography Column , LCD Spacer , Standard Particles/Spheres , Magnetic Beads , Monodisperse Microspheres
Capital (Million US $): 10000000 RMB
Year Established: 2007
Total Annual Sales Volume (Million US $): Above US$100 Million
Export Percentage: 31% - 40%
Total Annual Purchase Volume (Million US $): US$1 Million - US$2.5 Million
No. of Production Lines: 20
No. of R&D Staff: 41 -50 People
No. of QC Staff: 11 -20 People
OEM Services Provided: yes
Factory Size (Sq.meters): 30,000-50,000 square meters
Factory Location: 2 Baichuan ST, Suzhou Industrial Park
Contact Person: Ms. Yuhua Fu
Tel: 86-0512-62956000